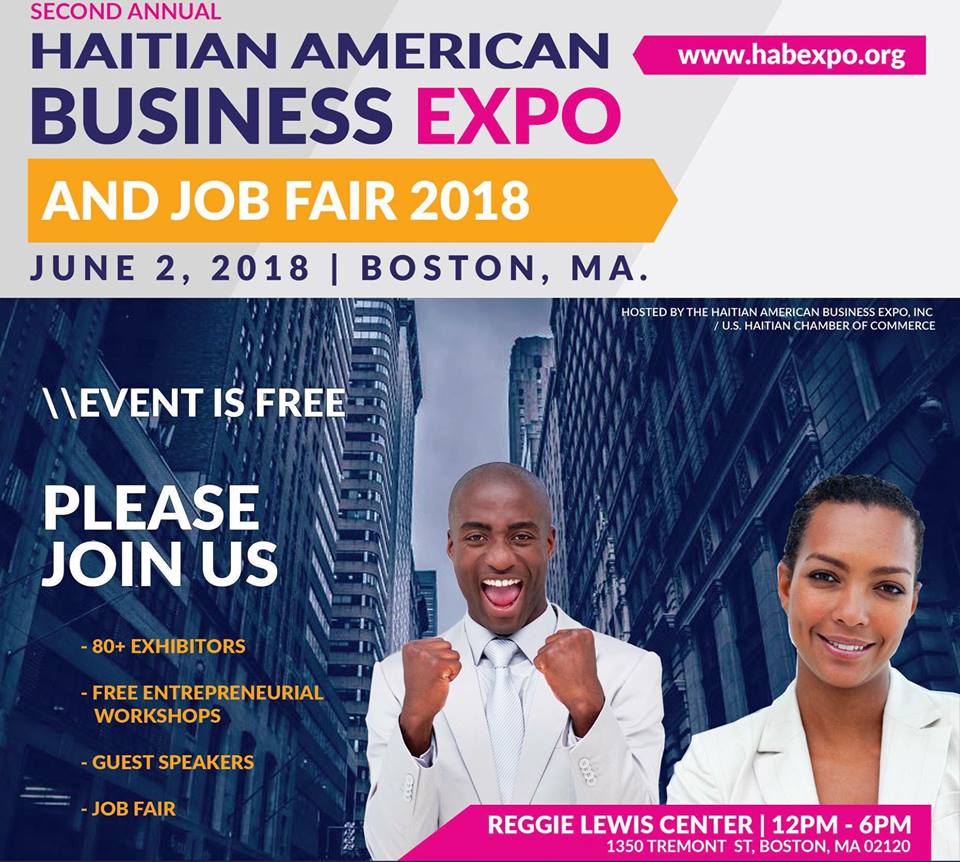 PLEASE JOIN US TOMORROW @THE REGGIE LEWIS CENTER
1350 Tremont Street, Roxbury Crossing, MA 02120
Check Out the Haitian American Business Expo and Job Fair Agenda
and Schedule Your Day!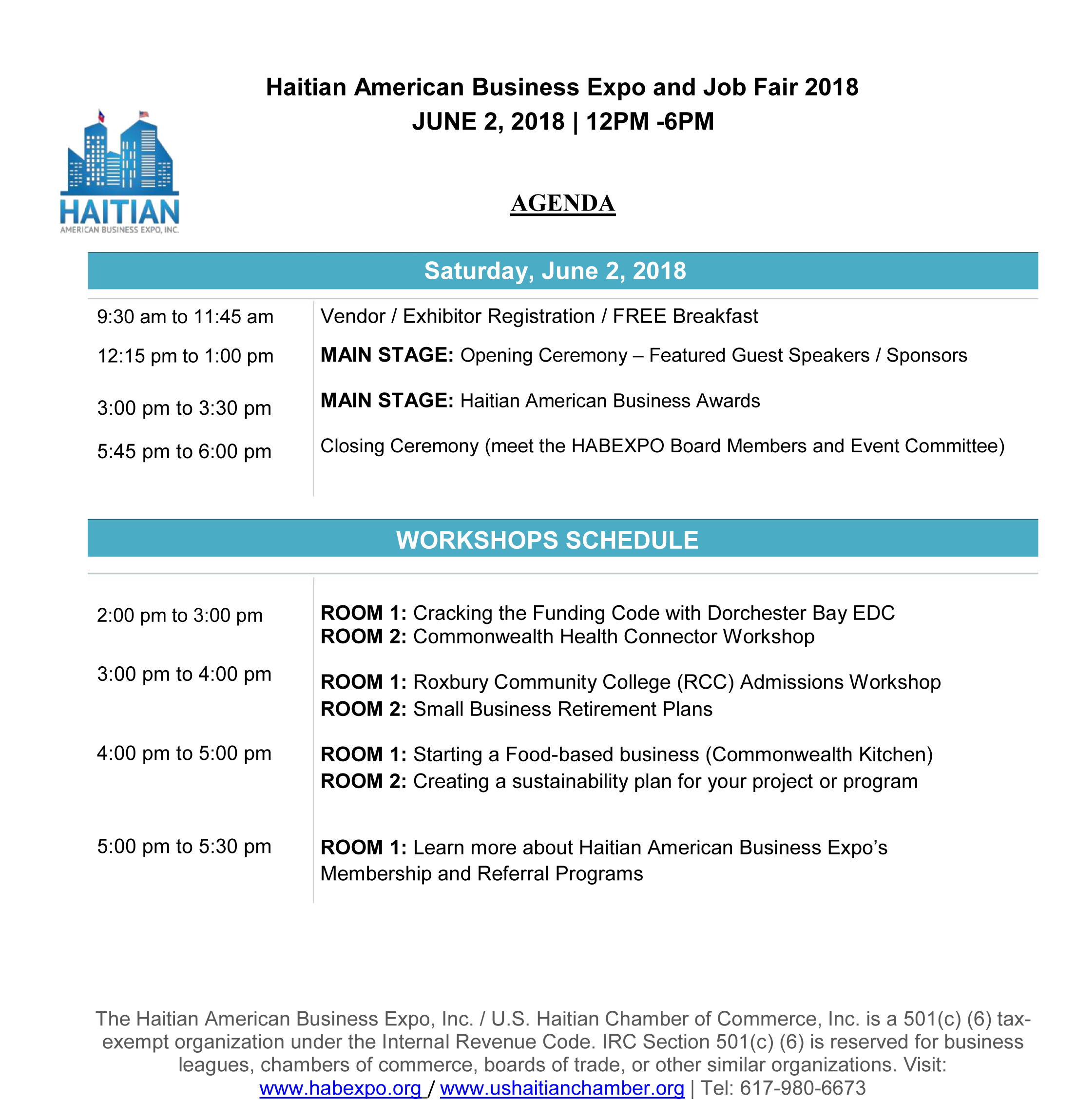 THE EVENT IS FREE AND OPEN TO THE PUBLIC – CLICK HERE TO RSVP
RSVP online to receive your free goody bag at the event!
WHY ATTEND?
It's FREE to attend!
Network with hundreds of business owners and entrepreneurs
Establish hundreds of new business contacts.
Attend FREE entrepreneurial workshops & seminars.
Apply for Private and Government jobs.
Buy products at discounted prices.
Learn about new products and services.
Interact with the movers and shakers of the Haitian Community in Massachusetts.
Meet your local elected officials.
Be in the RIGHT place at the RIGHT time.
FREE pre-event reception for partners, vendors, sponsors and supporters.
WANT TO EXHIBIT YOUR PRODUCT/SERVICE AT THE EXPO?
This is a great opportunity to promote your services and package deals to the Haitian community in Massachusetts. The Expo will be held at the Reggie Lewis Track and Athletic Center in Boston, MA. We are expecting more than 2,000 people in attendance.
Please make a payment now to reserve your table.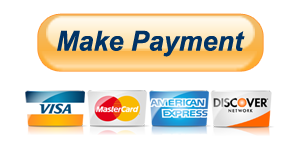 VENDOR Package- $250.00
* 6' table with 2 chairs
* Your company free listing on our business directory (www.haitianamericanbusinessexpo.com)
* 1 ticket to pre-event breakfast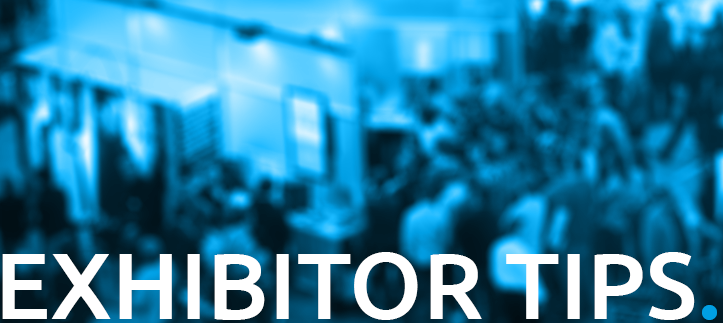 ---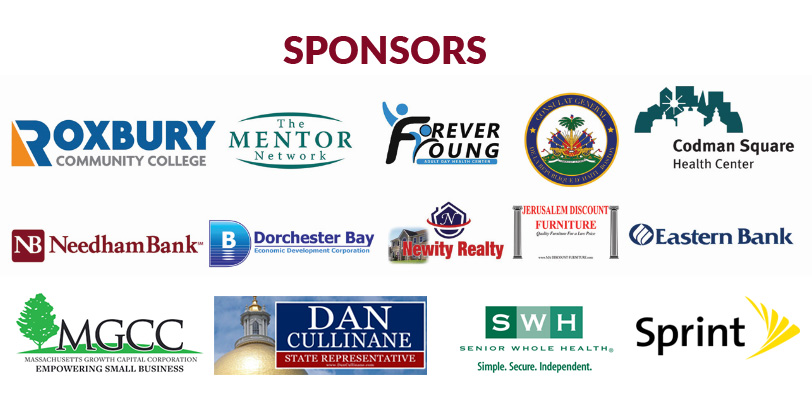 SUMMARY LIST OF EXHIBITORS
BLR Enterprises, Inc
Boston Mother's Care
CHES (Christian Haitian Entrepreneurial Society)
CLC Consulting
Codman Square Health Center
Commonwealth Health Connector
Commonwealth of Massachusetts
Epe Care, Inc.
Family Caregivers
Farah's Cafe Restaurant
Forever Young Adult Day Health Center
HAB EXPO Table
Haitian American United (HAU)
Haitian Consulate General of Haiti in Boston
Ketou Boutique
KS Dance Studio
Mary Kay Rachelle
The Mentor Network
MPAH (Motion Picture Association of Haiti)
New Computer Center
Newity Realty, Inc.
New York Life ~ Stanley David
Philadelphia Haitian American Chamber of Commerce
R Widmack Production
Roxbury Community College
State Representative Dan Cullinane
Styllistik Co. LLC
Haitian American Bar Association
Vicentes SuperMarket
Web Print Lab
Language Plus
Needham Bank
International Institute of New England
Dorchester Bay Economic Development
MJ's Art Boutique
Artist Rosemond (Musician)
Boston Medical Center
Andrade Associates, LLC
Anchor on Hope
Mckenley Youth Disabled Organisation Corporation
R&R Beauty Supply
Bettymedia®
Brother's Kafe Kreyol
Prosperity Catalyst
Sunny Bay Cola
Jerusalem Furniture Hyde Park
Boston Senior Home Care
U-Smile Dental
Rivers of Hope
Attorney Jovan Lacet
Springfield College
Sprint Corporation
Haitian Artists Assembly of Massachusetts
GargGlobal
Mass Growth Capital Corporation
Senior Whole Health
Artist / Painter Nell Jean-Jacques
Claudette Retail Store
Massachusetts Office for Refugees and Immigrants (ORI)
FirstSynch
Primerica
Best Home Improvement
Senator Nick Collins
Haiti Initiative Cayes
Fallon Health
Bank of England Mortgage
Beyond Adult Day Care ( VILAJ LAJWA)
Harvard Neighborhood Health Center
Little Heart Dream Foundation
SBA – Small Business Administration
NY Dry Cleaners
Studio 24 Graphix
United Soccer Fest
Eastern Bank
Codman Square Health Center
Jerusalem Discount Furniture
Tele Choublak
Ekran Marabou TV
Impact Consulting, LLC
International Flix, Inc.
For more info, call us at 617.980.6673
Sponsorship Opportunities are also available:
Please contact us today: contact@haitianamericanbusinessexpo.com
More information to be released soon!