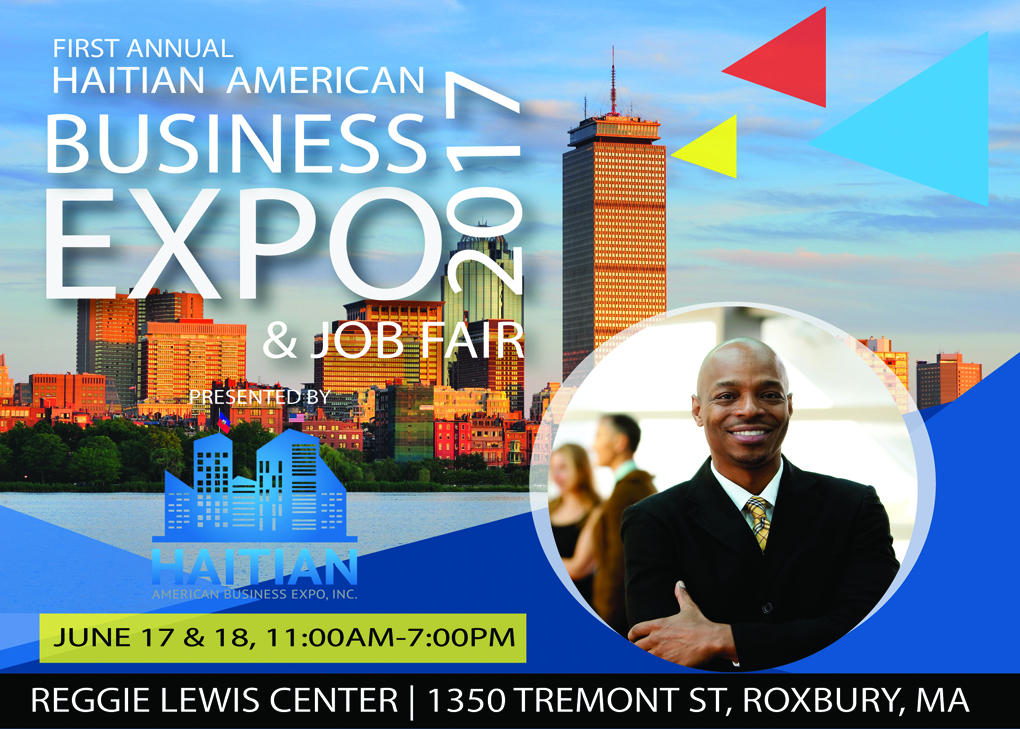 Please click on the image below to read the thank you note!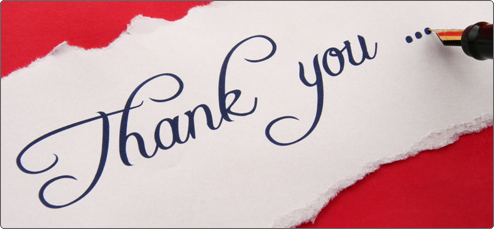 Get ready for the First Annual Haitian American Business Expo
and Job Fair this weekend!
SCHEDULE FOR SATURDAY & SUNDAY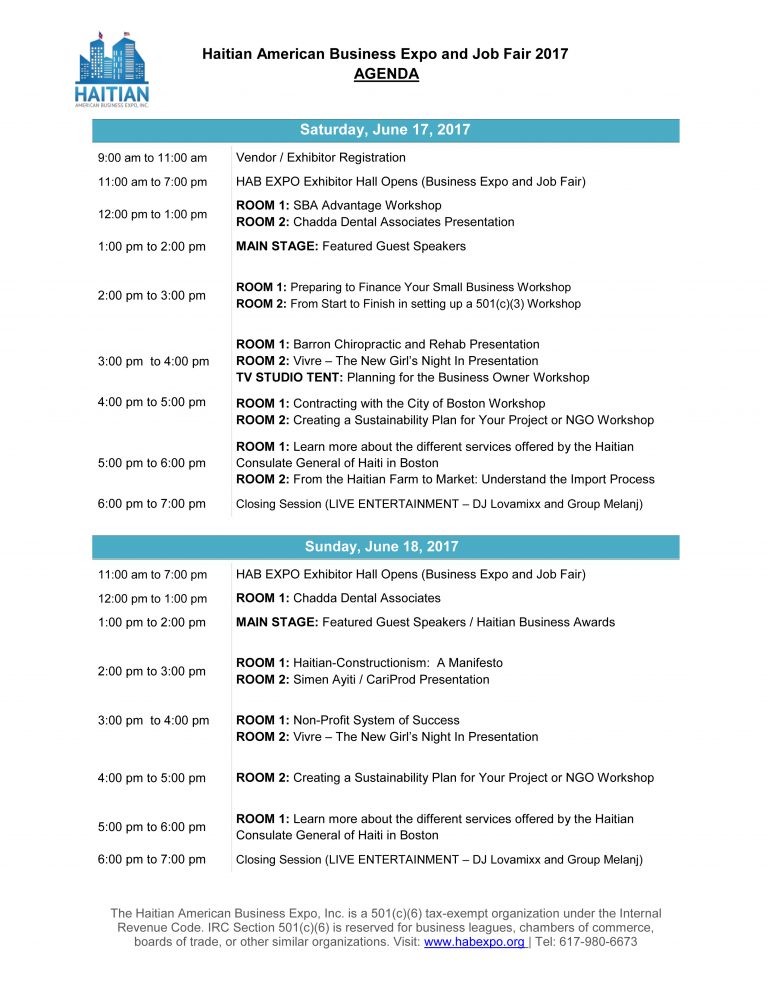 ---
Watch Our Promo Video # 1: featuring some of our sponsors and vendors.
Watch Our Promo Video # 2: featuring Dr. Chadda from Chadda Dental Associates and Gervens Janvier from HOFAGA.
EVENT IS FREE AND OPEN TO THE PUBLIC | REGISTER TODAY
WHY ATTEND?
It's FREE to attend!

Network with hundreds of business owners and entrepreneurs

Establish hundreds of new business contacts.

Attend FREE entrepreneurial workshops & seminars.

Apply for Private and Government jobs.

Buy products at discounted prices.

Learn about new products and services.

Interact with the movers and shakers of the Haitian Community in Massachusetts.

Meet your local elected officials.

Be in the RIGHT place at the RIGHT time.

Enjoy live musical entertainment.
FREE pre-event reception for partners, vendors, sponsors and supporters.
Local Haitian Business Awards
CONFIRMED GUEST SPEAKERS :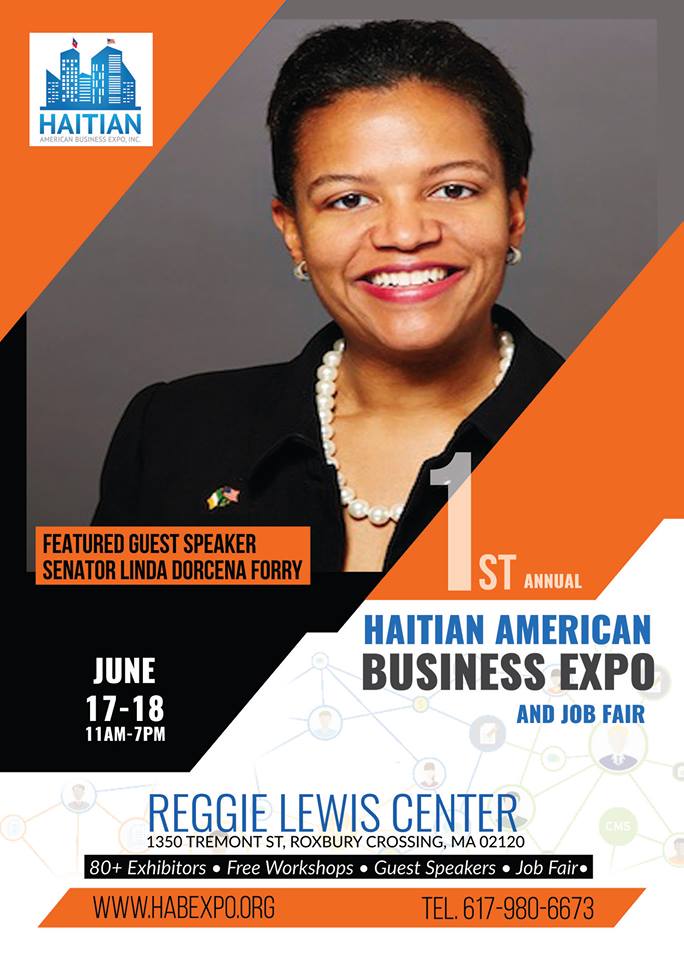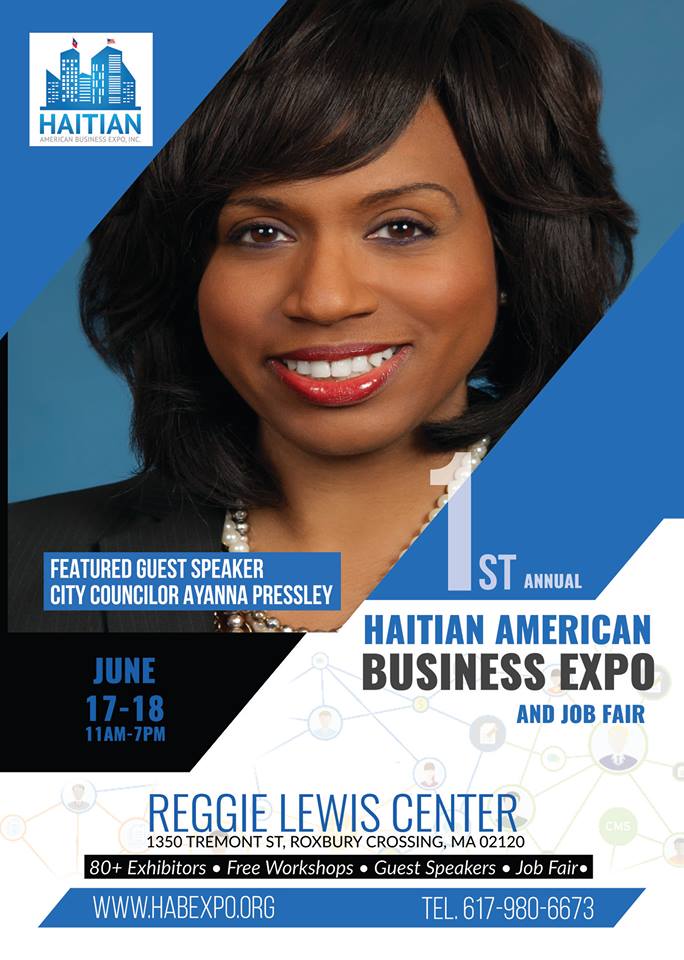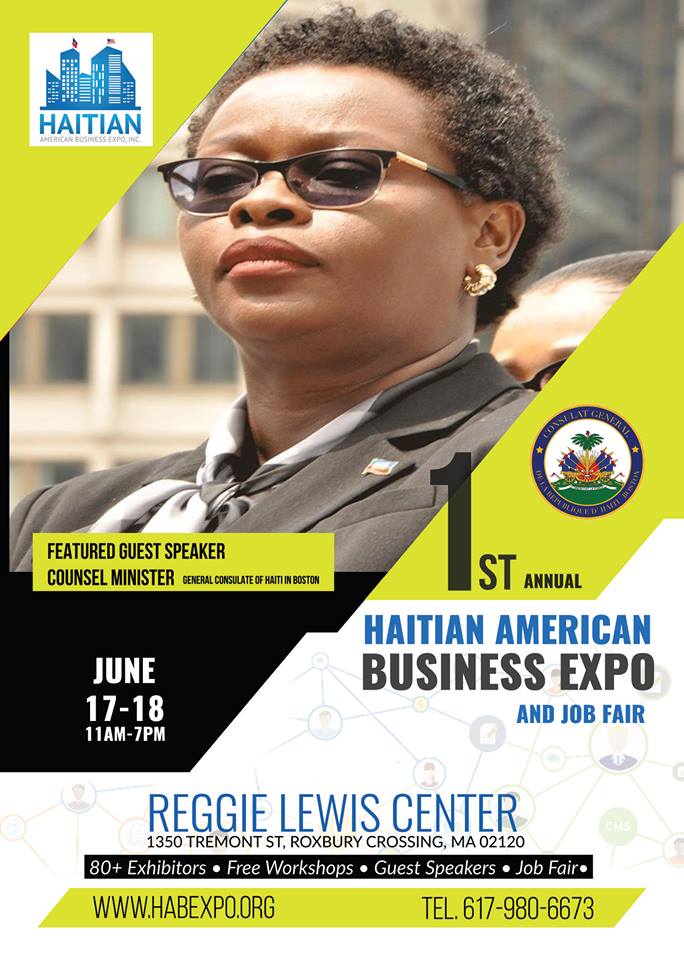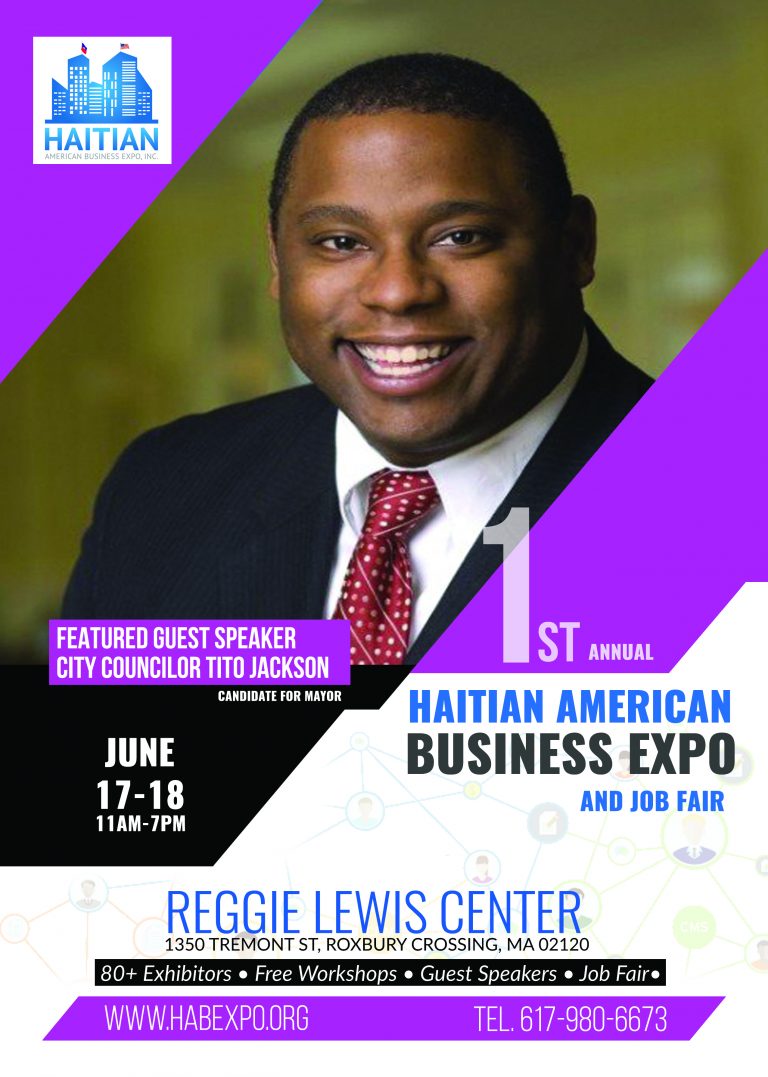 EXHIBITORS TIPS

Thank you for exhibiting at our Haitian American Business Expo & Job Fair! We realize that it's a huge investment for your business so we wanted to put together some tips to help you make the most of this opportunity. LEARN MORE
When exhibiting please think about the 4 P's:
Promote
Prepare
Present
Pursue
Reminder: 9:00 am – 10:30 am (Setup time for Exhibitors)
—————————–
SUMMARY LIST OF EXHIBITORS:
Websterbank
Forever Young Adult Day Health Center
Codman Square Health Center
Earth Centric Solar
OneUnited Bank
KIG Corporation
Haitian Consulate of Haiti in Boston
Accion East
MASS ADH / KAY PAM
Barron Chiropractic and Rehabilitation
Tele Choublak
Chadda Dental Associates
CariProd / Simen Ayiti
Vivre the New Girl Night
Jerusalem Discount Furniture
Au Beurre Chaud Bakery
Ultra Mobile
Styllistik Co. LLC
Dala Variete Store
Boston Studio 403
KS Dance Studio
In Sight Art Gallery
Ketou Boutique
The Wholeness Center
NY Life Stanley David
CGT Events
Yofes ( Youth & Family Enrichment Services, Inc)
SBA (Small Business Adminitration)
United Soccer Fest
NY Dry Cleaners
New Computer Center
Marcel Victor and Associates
Awake Intu Mind
Mary Kay Rachelle
Innovative Learning Concepts
Commonwealth of Massachusetts
Mayor's Office of Economic Development Boston
Ches (Christian Haitian Entrepreneurial Society)
MPAH (Motion Picture Association of Haiti)
Harvard University
Family Caregivers
R & K Customized Printing
Roxbury Community College
Studio24 Graphix
Farah's Cafe
Hofaga
Philadelphia Chamber of Commerce
Ameritel Wireless
Beltop Services
Attorney Mark Ruby
Epe Care
BLR Enterprises INC
Paloma Driving School
CLC Consulting
Makers Design Studio Lab, LLC
Haitian American United (HAU)
Nadege Creation
Beyond Adult Day Care
Boston Mothers Care
Little Heart Dream Foundation
R Widmack Production
Diamond Sleeping System
Web Print Lab
JVS-Boston
SandSTransportService
Classic 1804 Promo
Fusion BASH
Youngevity
Blue Hills Bank
Raw Haiti
The Roberson Law Group, P.C
Parfumerie Internationale
Complex Hair Design
Ekran Marabou
International Flix, Inc.
Ambit Energy
Vicentes SuperMarket
Jean Appolon Express
Newity Realty
City Black Cars
Distinction Gift-ware
Dimock
Commonwealth Health Connector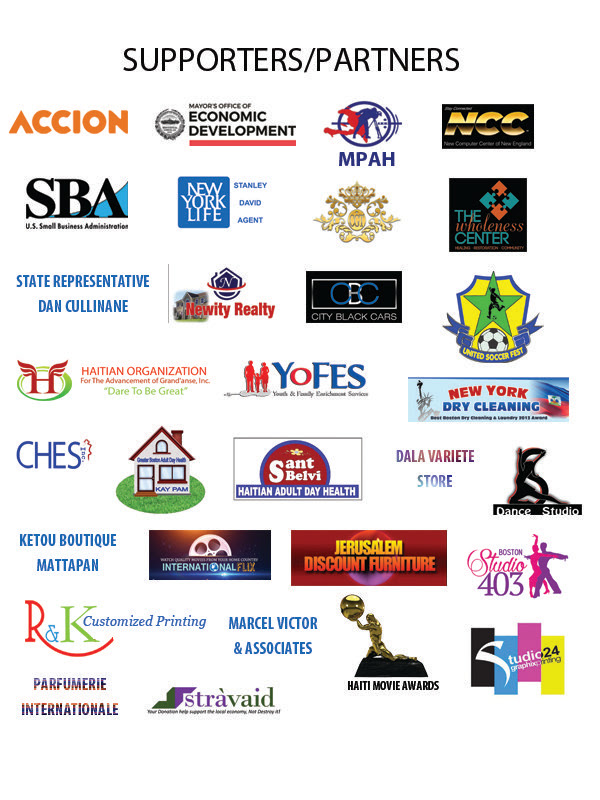 The First Annual Haitian American Business Expo and Job Fair will be broadcast live on Comcast Channel 729. Courtesy of Tele Choublak and Ekran Marabou.
---
OUR MISSION:
The Mission of the Haitian American Business Expo, Inc.("HAB Expo") is to promote and assist Haitian American businesses by creating a platform where they can showcase their services to the communities in Massachusetts. The Haitian American Business Expo, Inc. is a registered nonprofit organization.
The Haitian American Business Expo, Inc. is a 501(c)(6) tax-exempt organization under the Internal Revenue Code. IRC Section 501(c)(6) is reserved for business leagues, chambers of commerce, boards of trade, or other similar organizations.
Additional resources from the IRS:
Volunteer Opportunities:
If you're interested in working with a team of dedicated individuals to support the business community, this is the opportunity for you. Please contact us: contact@haitianamericanbusinessexpo.com